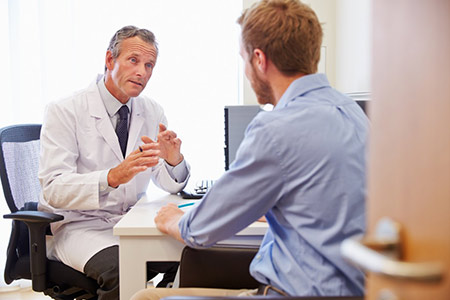 ABOUT PHYSICIANS RESEARCH INSTITUTE
Physicians Research Institute (PRI) is a not for profit group created by state medical societies to counter the biased "studies" of groups such as Workers' Compensation Research Institute (WCRI), the National Council on Compensation Insurance (NCCI), the California Workers' Compensation Institute (CWCI), and insurance companies such as Accident Fund Holdings (Accident Fund).
The founding medical societies saw these "studies" being used in legislative debates to promote efforts to restrict doctors from prescribing therapies or dispensing medicines as they saw fit. In this respect, workers' compensation insurers were seeking to act like HMOs in the 1990s in limiting tests or restricting therapies deemed necessary by treating doctors. Moreover, these insurers were asking for and, in many cases receiving, legislative approval for such restrictions. In all such cases, the WCRI, CWCI, NCCI and Accident Fund "studies" formed the basis for actual or proposed legislative action.
The "study" leader was WCRI, an organization supported by workers' compensation insurers with annual dues up to $220,000. See www.wcri.org. In Maryland, MedChi, The Maryland State Medical Society, discovered a fundamental flaw in the four WCRI studies: WCRI, Prescription Benchmarks for Maryland (March 2010); WCRI, Prescription Benchmarks, 2nd Edition: Trends and Interstate Comparisons (July 2011); WCRI, Physician Dispensing in Workers' Compensation (July 2012); WCRI, Physician Dispensing in the Maryland Workers' Compensation System (September 2013). The error was later confirmed by an independent study by the Maryland Workers' Compensation Commission (MWCC).
The WCRI "studies" maintained that doctor dispensing of medicines constituted 40% of all workers' compensation dispensed medicine and was rising. However, MWCC reported that doctor dispensing was 15.7% and was, in fact, declining. WCRI based its conclusions on a review of approximately 12% of all claims in any given year while MWCC reviewed 92% of all claims. In other words, WCRI had skewed its conclusions by limiting the claims it reviewed.
Moreover, MedChi pointed out that WCRI's own data revealed that doctor dispensed medicine cost less on a "per claim" basis even though doctors charged more "per pill" than pharmacies. The reason for this was that doctors dispensed far fewer pills when done from their offices. This observation caused WCRI to delete this information from its later studies (2012 and 2013), not only from Maryland but for all other states as well. The persistence of a Maryland State Senator made WCRI reveal that the "per claim" savings from doctor dispensed medicines continued in later years as well even though this information was excluded from later published "studies".
The WCRI failings were repeated in NCCI data relied on in Florida to pass a restrictive law limiting pricing for physician dispensed medicines to workers' compensation patients. The "savings" forecast by NCCI, if legislation was passed, kept changing downward as flaws were revealed.
These same "studies" have been used in state after state to justify legislative restriction of physician discretion in treatment of their patients. PRI exists to question the veracity of these "studies" and to conduct unbiased research into proper therapy.
PRI's leadership comes from medical society leadership. PRI's membership consists of state, local and specialty societies, physician members of such societies and companies and groups supporting physician autonomy.
For further information contact PRI's President, Jay Schwartz, (jay@prigroup.org).
See how medical professionals and societies can join the conversation and become a member of PRI.